Sound Study at the Center of The End of Things (2010)
This was a small installation created for The Center for the Study of the End of Things, an art event held in a soon-to-be demolished former furniture store in Charlottesville, VA in February, 2010. The participants ranged from students to established artists and sculptures, paintings, and installations were displayed in a variety of spaces. I was able to take over a small former office space that overlooked the showroom floor. I installed four speakers and a single microphone, put in red lights, and single bright white spotlight recessed into a portal in the ceiling. The installation worked in five-minute cycles. It first recorded audio in the room for thirty seconds, then progressed through a five minute composition based on spectral manipulation of the audio. It was played loudly, and could build to a significant intensity.[audio:http://www.petertraub.net/wp-content/uploads/2010/03/Sound-Study-at-the-Center-of-the-End-of-Things.mp3|titles=Sound Study at the Center of the End of Things (2010)|artists=peter traub]
I also performed a half-hour live set with fellow grad student, Erik Deluca (see slide show for photos).

Solera : for sound, site, and time (2009)
Solera creates a long-term acoustic memory of a space by accumulating and layering recordings made as time unfolds within the space. A computer records audio from each microphone for twenty-four hours, while each speaker plays the previous day's audio overlaid with that of the current day. This process repeats daily, amalgamating each new recording with the previous day's, mixing it with still earlier recordings. As the installation ages, one hears audio combined from recent and distant days. As the older recordings are played into the space again and recorded again, they accumulate more of the space's resonant qualities, harmonically coloring the sound. Gradually, a rich texture emerges, combining sounds from the present and past, becoming tuned to both the dimensions of the space and the daily cycles of activity within it. Listening to the piece at each of the four recording and playback points provides a slightly different aural narrative, specific to that point in space and time.
The name Solera comes from the Spanish term for the method of barrel-aging sherry, as well as certain other fortified wines and vinegars. It is the inspiration behind and metaphor for the sonic process that unfolds in this piece. Barrels of sherry are arranged chronologically from youngest to oldest. Periodically, a percentage of each barrel is transferred into the adjacent older barrel, combining younger with older wine. By the time wine from one end reaches the other, it has been mixed with wine from many previous years.
[audio:http://www.petertraub.net/wp-content/uploads/2011/01/2009_11_06_solera_day10.mp3|titles=Solera (2009)|artists=peter traub]
Solera's premiere installation was in the Ruffin Hall main lobby at the University of Virginia for three weeks from October 26th to November 12th, 2009. Solera was also reviewed in C-Ville.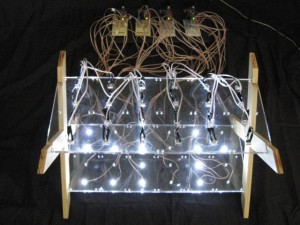 Panta Rhei, rev. 2 (2008) – in collaboration with Lanier Sammons
In late 2008 Lanier and I wanted to make a more portable version of Panta Rhei for use in touring, exhibits, and so on. We decided to remove the light array, which was our primary contribution to the original structure, and enlarge it with another six LEDs and photoresistors. The resulting work is more purely a play of light and sound, lacking the percussive (and in our opinion violent and distracting) noise of the solenoids. It is also a more open platform for creating other types of interaction between the user and the LED/sensor array. We are grateful to Troy Rogers and Andrew Hamm for their help in fabricating the materials for the revised piece.
Panta Rhei (2008) – in collaboration with Andrew Hamm, Lanier Sammons, Jennifer Siomacco, and Wendy Stober
The original version of Panta Rhei resulted from a joint class of architecture undergrads and music grads offered in early 2008 at UVA, called "Robotic Ecologies". Panta Rhei was our team's final project, and consisted of a LEDs and photoresistors built into a structure with a solenoid-driven movable surface. The entire interactive device was controlled by Arduino microcontroller boards connected to a Mac laptop running Max/MSP. The summer after the class, one of the undergrads, Andrew Hamm, had his brother make a short documentary about the project in which Lanier Sammons and I talk about the concepts behind Panta Rhei.
ItSpace – physical version (2008)
This is a physical version of ItSpace originally constructed for premiere at The Bridge Progressive Arts Initiative in Charlottesville, VA in January, 2008. In this version, visitors to the piece press buttons embedded in photos of each of the objects, triggering the creation of a one to two minute remix of the sounds from that object. Multiple objects can be triggered simultaneously. As the piece is easily transportable, it can be displayed and performed at concert events, public spaces, and so forth.

ItSpace (2007)
ItSpace is an online sound installation consisting of a network of pages within the social networking site MySpace Instead of featuring people, the pages feature everyday household objects. Each page has a photo of the object, a description, and most importantly, a 1-minute piece of music composed of recordings of the object being struck and resonated in various ways. All the pages, or objects, are 'friends' with each other, so that visitors who discover one object may jump to the others by clicking on the 'friends' pictures at the bottom of each page. Visitors are invited to create new ItSpace pages with pieces made from their own household objects and link those as 'friends' of the original set. They are also invited to remix and combine existing objects into new musical compositions. Other composers have contributed a number of new objects to the network since the project was launched. ItSpace also has a companion physical installation that was created after the launch of the original piece.
ItSpace was a 2007 commission of New Radio and Performing Arts, Inc., for the Networked_Music_Review. It was made possible with funding from the New York State Music Fund, established by the New York State Attorney General at Rockefeller Philanthropy Advisors.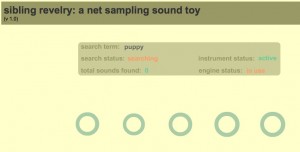 sibling revelry (2001) – in collaboration with Gregory Traub

At the time this piece was made, my brother Greg was doing a lot of Flash development, and I had recently finished collaborating with Amy Alexander on NetSong. For sibling revelry, Greg developed the Flash-based instrument interface, while I wrote the back-end audio file retriever. We have not maintained the software over the years, so it may or may not work with your browser. To play it, type in one or more search terms and the sibling revelry search engine will look far and wide for related sounds. As they are retrieved, they will be loaded into your instrument one by one. Be patient, as it may take a few minutes to find the first sounds. using your mouse, or keys A, S, D, F and G, play back the sounds that arrive to create your own unique internet sound collage. When the instrument is fully loaded, the old sounds will be written over as new ones arrive. If you do not find any sounds, which will happen from time to time, go back and try another search.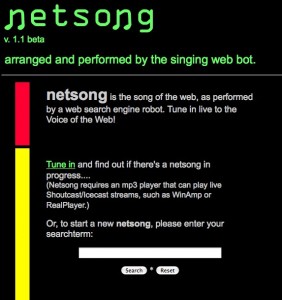 NetSong (2001) – in collaboration with Amy Alexander
From the original description written by Amy Alexander: When provided a search term, the NetSong bot will search for this term in a search engine, then choose a page from the search results and begin following links from that page. It will continue to follow links from the resulting pages indefinitely, backing up and rerouting if it hits a dead end. Happily gathering text from each page it visits, the NetSong bot savors the unique lyricality and poignant narrative of the web and begins to sing it. Not content to merely surf the information superhighway, the NetSong bot makes it music.




bits & pieces: a sonic installation for the World Wide Web (1999)
bits & pieces was my Master's thesis project and my first foray into online art. Once a day, it searches the web for sound files, attempting to gather up to 25 new sound files each day. Every 15 minutes, it selects from one of several collaging processes and generates a new sound collage. When you click on the link, your mp3 player will play back the 10 most recent collages. bits has continued to run almost uninterrupted since it first went live in May, 1999. To maintain the ephemerality of the process and the uniqueness of each piece, collages older than two hours are overwritten, and no permanent recording of bits's oeuvre is kept.